Nurturing respect, confidence and talent across the school
Welcome to Rettendon Primary School.
We hope you enjoy finding out about our school.
Governor's Awards - Wednesday 19th July
Multi-Sports - 17th July 2017
Golden Time - STEM Challenge - Friday 21st April
Could the children create and name 3d shapes using cocktail sticks and sweets?
Easter Egg Hunt - 31st March 2017
The children had great fun today searching for their Easter Egg donated by a kind parent. Thank you.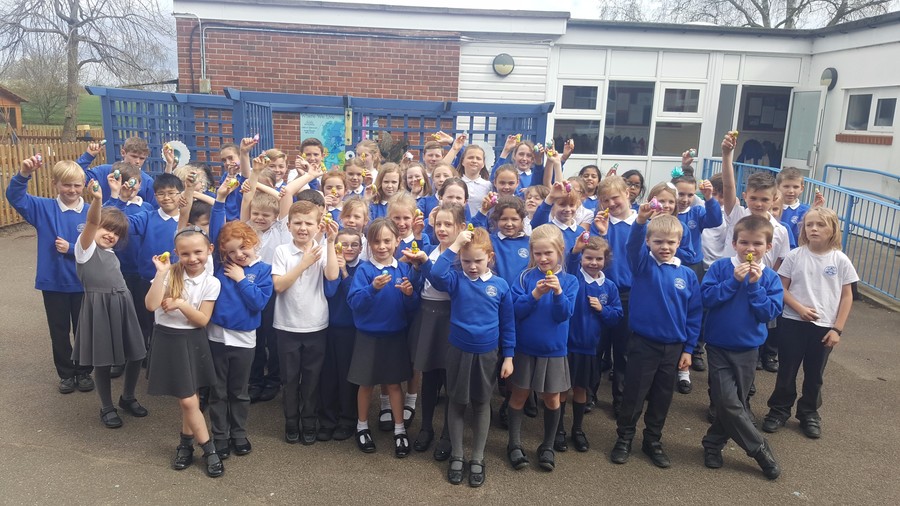 Big Bertha - 30th March 2017
Today we were awarded the Big Bertha Easter Egg from the Queen's favourite chocolate makers for being a kind and caring school as nominated by a parent. As you can see the egg is as tall as one of our Class One children and each class had 2kg of dark chocolate to share. Yum yum.
STEM Challenge, Golden Time, 24th March 2017
STEM challenge, Golden Time, 24th February 2017
Times Table Challenge - February 2017
Roald Dahl 100th Birthday - 13th September 2016
Peace Child - 14th July 2016
Archery Through Maths - 12th July 2016
Multi-sports Morning and Sports Day Afternoon - 30th June 2016
Olympic Sports Day - 29th June 2016 with Progressive Sports
Red, White and Blue Day - 20th May 2016
Wednesday 25th May
Lots of tired children today, but a fantastic sailing day. Water fights and seal sightings have kept them entertained. Canoeing, crabbing and cycling still to come.
See you all Friday
Monday 24th May
As you know from Twitter they have all arrived safely. The internet is very patchy and Miss Smith is trying to get photos to you as much as possible. Below is a small selection of photos to start with, hopefully more will follow as the internet allows.
Latest School Events
Summer Closure

24

Jul

2017

Summer Closure

Autumn terrm begins

04

Sep

2017
Click on the link to find out how to get notifications from us to your device
Whole School Blog
admin on: Whole School Blog
We just want to say a huge congratulations to year two and year six who have all worked so hard. We are very proud of you all. Well done!
---